MEET STRAINDADDY; THE FIRST ALL-IN-ONE STORAGE SOLUTION FOR CANNABIS CARTRIDGES & GEAR
The Straindaddy 510 Cartridge Caddy organizer launches online in the USA and Canada on May 9th, 2023
YORK, Penn. — May 9th, 2023 —STRAINDADDY is the new name in the cannabis game with the release of The Straindaddy 510 Cartridge Caddy; the first all-in-one storage tool for oil cartridges, batteries, and more designed with labels for simple organization. Independently developed with affordability in mind, the Straindaddy 510 Cartridge Caddy retails at $12.99 and is available online in the USA and Canada via www.straindaddycaddy.com.

"THE GOAL WAS TO CREATE A CARTRIDGE HOLDER SIMPLE ENOUGH FOR THE EVERYDAY CONSUMER, WITH MORE THAN TRIPLE THE FUNCTIONALITY, AT ALMOST HALF THE COST OF ANYTHING ON THE MARKET." -SAVANNAH PECK, FOUNDER OF THE STRAINDADDY 510 CARTRIDGE CADDY
Cannabis consumption has increased in popularity over the years since the state-level legalization of medical marijuana and the growing accessibility of legal hemp-derived variations such as CBD and Delta8. As the legal cannabis industry grows, so do the options for cannabis concentrates. The Straindaddy aims to simplify organization as the only cartridge holder equipped with labels for consumers to keep their minds creative through the day and their bodies in the couch at night.
Common performance issues resulting from improper cartridge storage include:

Clogging and leaking
Cracking and shattering
Accelerated aging/loss of potency with exposure to heat and sunlight

The Straindaddy 510 Cartridge Caddy directly combats those issues by:

Holding cartridges upright, preventing clogs and leaks while keeping oil in contact with the heating element
Holding cartridges firmly in place, preventing falls and cracks
Keeping cartridges in a cool, dark place; protecting from UV exposure while maintaining maximum THC potency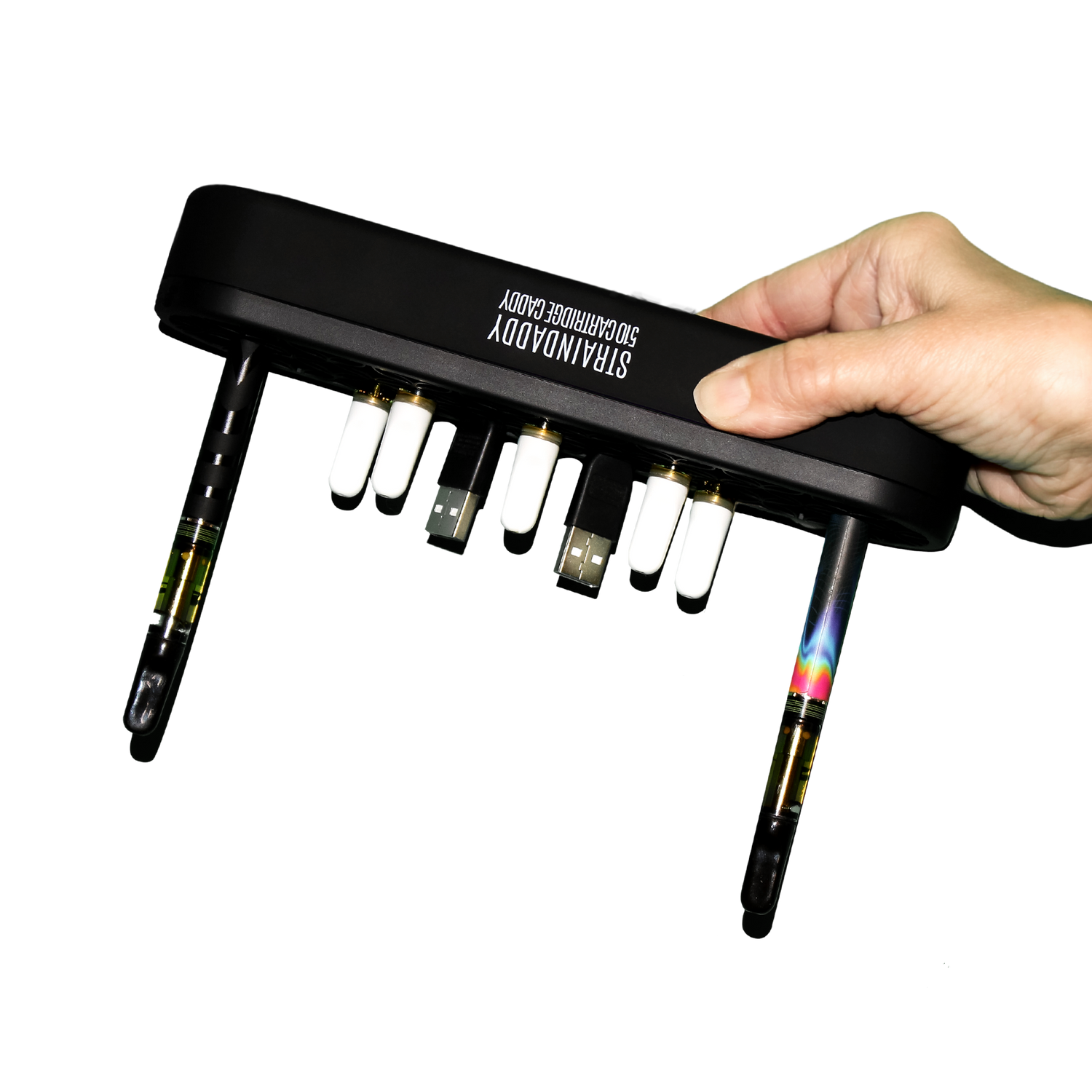 KEY FEATURES:
Holds up to 30 cartridges & accessories
Designed with sativa, hybrid, and indica labels to easily organize and identify strains
Durable and lightweight with a sleek, matte black finish
Detachable insert for easy cleaning
EXPERIENCE THE BENEFITS
About Straindaddy:
Independently owned and operated in Pennsylvania, Straindaddy is an e-commerce business focused on serving the cannabis community with affordable, high-quality storage solutions. Visit their website for exclusive discounts and early access to the Straindaddy 510 Cartridge Caddy.

Experience The Benefits
www.straindaddycaddy.com
Savannah Peck
Founder, Straindaddy 510 Cartridge Caddy
info@straindaddycaddy.com
INTERESTED IN FINDING OUT MORE? INTERESTED IN A PRODUCT SAMPLE? LET ME KNOW!